Concert Schedule Our Catalog Publicity Materials Songwriting Tutorial Send Us Mail
<![if !supportEmptyParas]> <![endif]>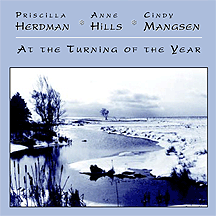 "The Turning of the Year

Constant change is the essence of this fragile world. Water, which slides down my throat quenching a thirst in the heat of summer, can hold me suspended on the icy edge of a skate that glides into the winter wind. Sunflower seeds, which feed the migrating birds, fall to the ground and decome golden stars shining through the false night of a stormy August afternoon.
We are in the studio recording At the Turning of the Year while outside another heavy rain drenches the gardens, thick with color. In the midst of this adolescent abundance, we sing of their brown demise. Part of giving thanks is knowing loss. Part of generosity is understanding deprivation. Last year, corn stood parched in the fields.
Autumn is an exercise in goodbyes, reminding us that our time is measured in transtitions. We walk through woods and thickets, on layers of past years' growth, pushing the acorns deeper into that fertile wisdom with each step. Nothing is completlely lost. Life, and eternal dancer, turns... and turns again.

This CD contains multimedia content (including song lyrics, artist information and links) accessible only with a computer. Simply place the disc in your CD-Rom drive, and launch "d:\index.htm" (assuming "d" is the drive letter for your CD-Rom drive) in your preferred web browser.

Produced by Herdman, Hills, Mangsen
Oboe arrangements by Cindy Mangsen
Recorded, mixed & mastered by Scott Petito at NRS North, Catskill, NY
The CDs are $10.00 and the books are $15.00 Please add $3.00 to the total to cover shipping and handling. Let us know if you would like an autograph.
Please make check for total amount payable to:
Compass Rose Music * Post Office Box 147 * North Bennington,VT 05257


__Return to Steve & Cindy's Home Page
<![if !supportEmptyParas]> <![endif]>