Concert Schedule Our Catalog MP3s Publicity Materials Songwriting Tutorial Send Us Mail
Excerpted from Chapter 13. of the book, "The Code"
The City of Light
1963

As we crossed the French border again, the conductor had come through the train with the offer of exchanging money, but I had slept through his noisy passing.  It meant that I found myself getting off the train at the Gare du Nord at with no money but Dutch Guilders.  There was no place that I could exchange them for Francs and no way I could buy anything with the Guilders, so I put my guitar in a locker at the far end of the station and started out into the city. 
I had no coins so I couldn't lock the locker, I just hoped that no one would discover my guitar (the same Martin D-18) before I could get back to retrieve it.  I had only a small tourist map of Paris that David had given me before I left Holland.  It wasn't much help, but I was able to recognize a couple of landmarks from the drawings on the map, and ended up triangulating down through the Palais Royal, and the Louvre, across the Seine on the Louis the 14th bridge, and down into the Left Bank. 
As I reached the bridge, I looked up to see the Eiffel tower fully illuminated and absolutely spectacular at near .  It seemed that the whole city was bright with a million lights.  I found out later that the Dutchess of Luxembourg was making an official visit, and it was in her honor that the lights were left on.  Tired and hungry, alone and with no place to go, I was so elated at the magic of the city, that it seemed they'd been left on just for me. 
The next day, after spending the night on a bench on the Boulevard San Michelle, I found a youth hostel on the fourth floor of a huge building on the Rue Lafayette.  Bed and a morning meal of hot chocolate and a small baguette of bread was about fifty cents a day.  I spent just about all I had to pay my board for the next two weeks until the boat train would take me to Cherbourg to meet the Queen Mary for my trip home on December 6th. 
That gave me some time to explore Paris and the surrounding region, and there were many wonderful things to see. Ron Bloom showed up at the hostel in Paris and suggested we hitch hike to Luxembourg, so we started out early the next day.  Ron had played football at Long Beach State, and had hitchhiked thousands of miles in Europe and Central America.  He offered to teach me the finer points of getting around by one's thumb. 
We took the tube to the Gare du Nord, and a local train to Soissons to get a good start out to the more productive hitchhiking roads.  As we left the train we started showing our thumbs to any drivers who came by.  Quite a few passed us by and we were just starting to make jokes about there being a plaque on the dashboards of the many Citroens we would see, that said not to pick up hitchhikers.  Ron kept protesting that once we got out into the countryside, drivers would pull over in groups of two and three to give us a ride. 
Mile after mile we walked backwards, making stupid jokes and inventing songs.  At one point we sang "Nous allons a Soissons" and other such lame improvisation.  Finally we arrived at Reims, I think by the generosity of one of those drivers of Citroens, and no we didn't see any plaque on the dash.  We decided to declare a victory, see as much of Reims as we could and take the train back to Paris.  We saw the monument to Joan of Arc, and had a pretty good dinner, tired and wiser for having ventured forth. 
We had other adventures as well.  One night when we were heading back to the hostel I had my guitar with me in its beat up cardboard case.  As we sat on a bench in an underground station of the Metro waiting for a train, a group of pretty tough looking young Parisians walked by.  One of them noticed the guitar and made some joke about Elvis "Preslee". 
Ron surprised us all by making an international gesture with one of his fingers, and that was just the excuse the young heroes needed to jump all over us.  As we stood up, Ron with his two-hundred plus pounds and me skinny but near six feet tall, it was clear that we towered over them. Some of them were pretty young, I would guess ten or twelve, and it was a silly match even though there were a pretty large group of them that seemed to increase as they crowded in to get a swing at us. 
It was really Ron who was the object of their anger, I remember just reaching down and turning little ruffians around so that their swings easily missed me, but things turned a little nastier when some of the bigger youths started kicking high into the air with their tap laden shoes attempting to land something lethal on Ron's head.  Suddenly, I saw a young girl with my guitar case climbing up out of the track bay on the other side of the station and attempting to hide the large guitar behind a cigarette machine. 
There was no train coming, and since the Paris metro used a system of overhead electricity, I was able to cross the tracks without danger.  The girl flinched as I reached for the guitar, and ran away.  I was able to get back across the tracks and Ron and I made a dash for the exit.  We passed through one of those intermeshing bar turnstiles which slowed our pursuers down to one at a time, and we were laughing as we made it up to the street level without further incident.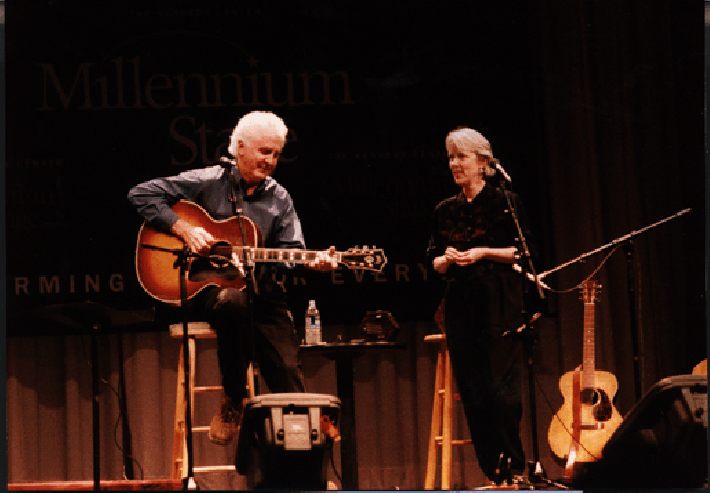 To view our live concert from the
Millennium Stage of the

Kennedy

Center
Visit the Kennedy Center archives.
If you don't already have RealPlayer
you can download it for free from Real.com

Please send any correspondence or requests for information to:
Compass Rose Music
P.O.Box 1501
Bennington, VT 05201
Direct your e-mail messages to:
Steve Gillette, gillette.steve@comcast.net
or to:
Cindy Mangsen, cindymangsen@comcast.net
Come back for more information, lots more Folk Music resources on the Internet,
our concert schedule, and of course, the jokes.
On the World Wide Web Since
October 5, 1995