Concert Schedule Our Catalog MP3s Publicity Materials Songwriting Tutorial Send Us Mail
Excerpted from Chapter 2. of the book, "The Code"
Getting There

In March of 2001 I wrote in my journal that:
Cindy and I started down Highway One from Carmel and were pleased to see that the "Road Closed" sign that had barred our way last year was not in use.  The California Coast route is such a legend in my life, and always a treat when we can get there.  Rain has closed the way many times and would close it the day following our passage this February, but this day was ours. 
As we reached Rocky Point I told Cindy to look through the trees to see the Rocky Point restaurant where my dad and I had eaten a very nice meal a few years ago.  She said she was hungry enough to stop for lunch so I made a "y" turn into the Palo Colorado Canyon road and drove back the half mile or so to the restaurant driveway. 
After lunch we walked along the crumbling headlands to watch the otters and cormorants playing in the kelp beds and surf below.  There we had a conversation with woman who told us that she was observing the date of her fiftieth wedding anniversary alone since her husband had died the previous summer.  Coincidentally, she had lived in Vermont and gone to the Putney School where I taught songwriting last summer and would teach again this year. 
There was a poignancy to our leaving there, the horizon in every direction was breathtaking, and we were well into a six-week journey of renewal and reward, escaping heavy snows in the East, and visiting towns and beaches on what was to be another successful tour.  We consider ourselves privileged to play the music we love for people who listen and come to hear us with a sense of history and shared consciousness.  This is the life that each of us has always wanted but could never quite manage alone. 
Prior to Carmel we had two days off in Monterey, walking and visiting the aquarium, a movie, nice meals, and generally relaxing after a busy weekend in Berkeley, San Jose, and Santa Cruz.  We had done our job.  We often say that we get paid for driving, but we had done some radio interviews, wrestled all our instruments and sound equipment, CDs and cassettes and books in and out of our small car and had been well rewarded. 
We'd visited both of my sisters during that week.  Each lives in a different part of the Bay area, Karen in Lafayette, and Darcy in Guerneville.  We usually have to traverse the San Rafael Bridge two or three times to have meals with both of them and my three nephews.  There's also the chance to have a meal with old friends if we can work out the details and if we can get away in time to set up and have a sound check before we play. 
The week before that was spent in Oregon, smaller concerts, but still very nice, and time to explore the beaches.  Astoria is one of our favorite places with museums and good food.  We've stopped in Seaside several times, and many of the other little towns dotting the oceanfront.  We also had time for what is turning out to be our annual lunch in Cave Junction with an old songwriting partner, David MacKechnie and Delbert Kauffman who ran the Golden Bear in Huntington Beach, California in those glorious days of the sixties. 
The week before that, we attended the National Folk Alliance Conference in Vancouver.  This was a convention-like gathering with fifteen hundred people involved in various aspects of folk music.  The Folk Alliance is a trade organization devoted to building resources for performers, presenters, radio show hosts, record companies, collectors and historians, anyone who works in the very special fields of traditional and contemporary acoustic music. 
Most of what goes on in the folk music world is as they say, below the radar, not likely to be noticed in the mainstream media.  This is true for Cindy and me as well, and yet it's still possible for us to make our way in the world as performers and creators of music.  I have at times had a participation in the corporate media, but mostly as a songwriter.  Although I've certainly reached for that brass ring over the years, lately I'm pretty happy just to do what we do.  Cindy has a library degree, and really has no attachment to the idea of being a "star."  I must admit to some ambivalence on that point. 
We left home on February 3rd, a day earlier than we had planned.  Watching the weather channel at home in Vermont on Sunday night, (we watch the weather channel like it was a soap opera) Cindy saw that a big storm was approaching from the South which might make it hard for us to get out in the morning.  We hastily packed and drove as far west as Syracuse before stopping for the night. 
We had three pretty uneventful days of driving until we ran into some weather in Nebraska.  Freezing drizzle coated our windshield and the road, forcing us to stop for the night in Sterling, Colorado.  This was not a problem since we only had to cover about a hundred miles the next day to get to our concert in Denver.  After that we headed toward Bellingham, Washington, our next scheduled concert.  We had three days to get there, and we were able to head right down through Colorado to pick up US 25 South of Salt Lake City and avoid crossing Wyoming on Rt. 80.
We had taken that route last year.  Most of Rt. 80 across Wyoming is on a high ridge and the winds can be treacherous.  Blowing snow creates some dangerous patches of black ice, and we did more skating than we care to do.   The truckers have a lot more weight and insist on pushing the little guys faster than is prudent.  Black ice is a great premise for a song, but it doesn't give many second chances.   
Our little Mazda 626 has 437, 847 miles on it as I write this.[in 2001]  We did put a new engine and clutch in it at 296,000 and we keep saying that one of these days we'll get something newer, but it's still doing very well.  We joke about going for the half-million mark, but I think we'll trade it for something a little bigger with air bags and maybe a little more room in the trunk. 
A CD player would be nice too.  But the car has given an honest 36 plus miles per gallon, and hardly any trouble, not to mention lots of happy times.  Maybe we'll have it bronzed.  We also joke that at first we felt a little guilty about not buying an American car (as if there was such a thing these days) but we'd have had to buy three or four of them. 
The Folk Alliance conference gave us a chance to have fun times with many of the people we most enjoy being with.  Many of our fellow artists who travel a lot of the time are only available to us at the conference, and at festivals, and rare times when we organize a camping trip or make plans to get together on the road.  This is made a lot easier by email.  Everything is made a lot easier by email, and we have a small, by now antiquated laptop which is just adequate for sending and receiving messages from the road. 
We do send out our schedule of performances and announcements of new albums to our mailing list.  We have just over ten thousand names and addresses on our mailing list, but only about seventeen hundred of them have email addresses.  We can't afford to send postcards to the whole list, so we limit our mailings to people in the zip codes that are near the places well play on a given tour.  We can send email to the whole list for free, but we try not to abuse the privilege, and only send out our newsy announcements two or three times a year. 
At the Folk Alliance conference we'll hand out our publicity materials from our table in the exhibit hall.  It costs an extra hundred and fifty dollars to reserve a table, but we find that it's a good way to catch up with a large number of the attendees.  We also try to sing in a couple of showcases each year and let people know that we'd like to be included if they are planning to organize a showcase.  Many of these take place in banquet rooms and small meeting rooms around the hotel, and some are simply private rooms on the floors not reserved for "quiet."
There is music everywhere in the hotel, which this year was the Vancouver Hyatt.  There are also some events scheduled around the city on a night devoted to pub crawling.  The Folk Alliance also organizes the "official" showcase, for which people submit their music and publicity materials months in advance.  The organizers try to include many different types of music and performers from every conceivable ethnic origin.   Cindy and I were chosen to do the official showcase in 1992 for the Folk Alliance conference in Albuquerque, New Mexico.  The event was much smaller then, and all the attendees could fit into the same large hall. 
The conference costs us about a thousand dollars to participate including the hotel.  We have done it for less by staying nearby in a smaller hotel, but have felt that we missed out on a lot of the comradery.  Cindy will seek out the ballad singers, and the people who share her interest in the traditional songs.  She's likely to be found in a stairwell with great acoustics with a small group of her idols singing far into the morning hours.  It's the only time I've known her to stay up so late, and it's good to be able to take the elevator and fall into bed when you can't keep your eyes open any longer. 
There is also the matter of the money we don't earn for that week of the conference while the bills still go on at home.  It's hard to justify simply in terms of bookings we get out of it, but there are so many opportunities for networking and so many memorable moments, that we still feel that it is a worthwhile thing for us to do.  We don't pay anybody to represent us, no agent, no manager or publicist, no one who speaks for us, so we feel it's the least we can do to keep our names and faces in front of the community. 
Travel is the other way that we keep our hand in.  It is hard work, but we are pretty well adapted to it by now.  We could probably find our way to anyplace in the country without a road map, and do get to most places.  This May we'll play for about a dozen dates in Europe.   We do this just about every other year.   We'll play in Holland, Belgium, Switzerland, Austria, Germany and Italy.  Most people in these countries speak enough English so that we don't have to try to sing in our clumsy German, Swiss German or Italian, and they are a very nice and attentive group.  But we also feel a great sense of depth of meaning and subtlety when we get back in front of an American folk music audience.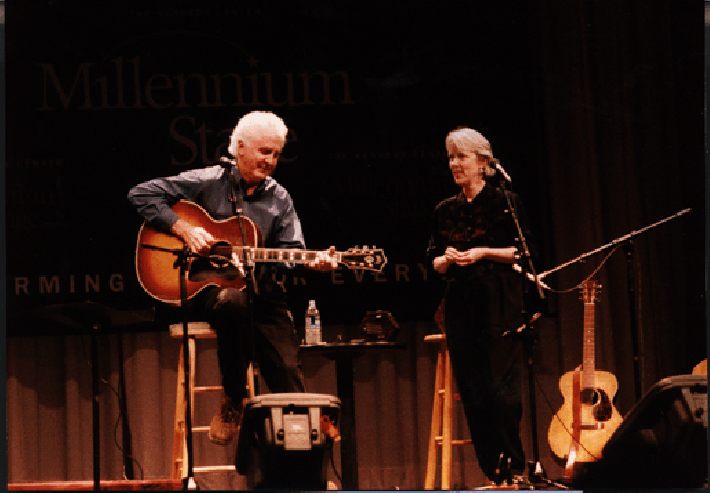 To view our live concert from the
Millennium Stage of the

Kennedy

Center
Visit the Kennedy Center archives.
If you don't already have RealPlayer
you can download it for free from Real.com

Please send any correspondence or requests for information to:
Compass Rose Music
P.O.Box 1501
Bennington, VT 05201
Direct your e-mail messages to:
Steve Gillette, gillette.steve@comcast.net
or to:
Cindy Mangsen, cindymangsen@comcast.net
Come back for more information, lots more Folk Music resources on the Internet,
our concert schedule, and of course, the jokes.
On the World Wide Web Since
October 5, 1995