Concert Schedule Our Catalog MP3s Publicity Materials Songwriting Tutorial Send Us Mail
Excerpted from Chapter 48 of the book, "The Code"
The Day of the Dolphin
1977

On Wednesday, April 6th, I was admitted to Japan on a flight from San Francisco. 135 of us arrived on a chartered 747 to perform in Tokyo for "The Day of the Dolphin," a concert series organized to raise consciousness about the sea, and ecology in general.  John Sebastion, Odetta, The Paul Winter Consort, Fred Neil and Vince Martin, Jackson Browne, Mimi Farina, Peter Rowan, David Lindley, and many more fine musicians were there.
The concerts were fabulous, very well received.  It seemed that the Japanese audience had read the liner notes of everybody's albums.  They knew all the players and applauded enthusiastically as they were introduced.  David Lindley and Stan Selest sat in with me to do several of the new songs from my album. 
Governor Jerry Brown flew over from California for the event.  Mac picked him up at the airport, and escorted him for the time he was there.  Joel Bernstein and I gave a copy of the first mixes of my album to Jackson Browne, and I took pictures lavishly with the new Nikon camera I bought in Tokyo. 
Lloyd Segal and I decided to take a sightseeing tour one morning, and walked out of the hotel and down into the subway station on the corner.  We stood there on the platform, and had not a clue as to which train, or which direction the trains would take us.  We saw a large graphic on the wall with lines going off in all directions, and lots of Japanese characters explaining what it all meant, but we couldn't understand any of it. 
We left the station and walked across the corner to enter the station again from a different point.  This time we saw the same graphic, but it was hanging on the wall at a ninety degree angle from the version we had seen in the other entrance.  It still made no sense to us.  Se we left the station and began to walk down the boulevard.
Before long, we came to a station for an above ground commuter railroad, and we decided to go to Kamakura, a small town on the coast about twenty minutes away.  We bought round trip tickets and got aboard.  Kamakura turned out to be a good choice, a beautiful little fishing village with fishermen tending their boats and drying their nets along the beaches.
As we rounded one corner, I was amazed to see the thirty-seven foot high Buddha of Kamakura.  I recognized it immediately from my dad's old "Operation Lifeline" book that I had as a kid.  It looked wonderful to me.  We discovered that we could go inside through a door in the back.  Light streamed in though the holes in the eyes, and it was an amazing view. 
I was curious to see how thick the bronze was, and by tapping and reaching around the sides of the door, felt that it was about three inches thick, probably thicker in some places.  It looked like it had sagged some over the years it had stood there, and who knows the Tsunamis and other disasters it had withstood.  What a find.
On the way back to our hotel, we stopped at a little stand deep in the maze of streets, to have something to eat.  We came to understand that we could order eel, and decided that we would try it.  As the chef prepared the dish, he handed us each a wooden skewer with some pleasant tasting white fish meat on it. 
As we finished that, there were two more, but these were definitely made up from other parts of the eel, and were a little more difficult to get down.  Then the last skewers appeared, and we were hard pressed to manage to finish the meal, and not offend our host.  It seems that the expectation is to eat every bit of the eel, and most other products from the sea, probably healthy, but a little hard to swallow.  
On Tuesday, April 12th, we flew back to San Francisco.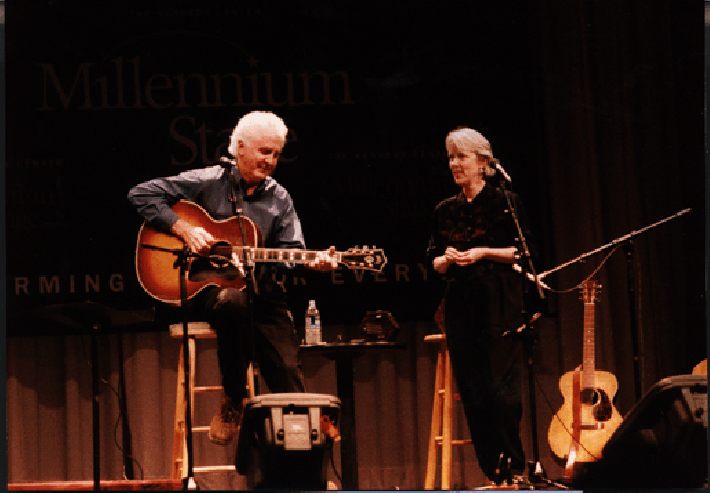 To view our live concert from the
Millennium Stage of the

Kennedy

Center
Visit the Kennedy Center archives.
If you don't already have RealPlayer
you can download it for free from Real.com

Please send any correspondence or requests for information to:
Compass Rose Music
P.O.Box 1501
Bennington, VT 05201
Direct your e-mail messages to:
Steve Gillette, gillette.steve@comcast.net
or to:
Cindy Mangsen, cindymangsen@comcast.net
Come back for more information, lots more Folk Music resources on the Internet,
our concert schedule, and of course, the jokes.
On the World Wide Web Since
October 5, 1995