Concert Schedule Our Catalog MP3s Publicity Materials Songwriting Tutorial Send Us Mail
Excerpted from Chapter 7. of the book, "The Code"
Bitten by the Bug

1958
In the fall, I volunteered to help decorate the goal posts at Whittier College where our high school team would play its homecoming game.  It was about four in the afternoon, when I found myself out on the end of one of the goal posts, wrapping red and white crepe paper in a spiral around the upright when I looked down and saw below me a trio of uniformed football players on the college team. 
Waiting for their practice session to begin, the three of them huddled arm in arm and sang pretty good three part harmony on a song I had vaguely heard on the popular radio of that time.  It was "Tom Dooley," the wonderful song brought out of the North Carolina mountains by Frank and Anne Warner.  They learned it from Frank Proffitt who had learned it from his father.   The Warners took it to Alan Lomax who published it in "Folk Songs USA." 
The Kingston Trio learned it from that collection and put it on their first album.  In the fall of 1958 it was high on the pop charts and eventually sold more than three million copies.  I was so impressed that the three college football players were so impressed with the song that they had mastered the harmony parts and sang it with such a mixture of the irrepressible and the timeless.  There was something speaking to them and to me from the ages. 
Cindy recently showed me an article with a letter that Frank Proffitt had written to the Warners in 1958.  "I got a television set for the kids.  One night I was a-sitting looking at some foolishness when three fellers stepped out with guitar and banjer and went to singing Tom Dooly and they clowned and hipswinged.  I began to feel sorty sick, like I'd lost a loved one.  Tears came to my eyes, yes.  I went out and balled on the Ridge, looking toward old Wilkes, land of Tom Dooly. . .  I looked up across the mountains and said, Lord, couldn't they leave the good memories. . ."
And in a subsequent letter, "Then Frank Warner wrote, he tells me that some way our song got picked up.  The shock was over.  I went back to my work.  I begin to see the world was bigger than our mountains of Wilkes and Watauga.  Folks was brothers, they all liked the plain ways.  I begin to pity them that hadn't dozed on the hearthstone. . .  Life was sharing the different thinking, the different ways.  I looked in the mirror of my heart - You haint a boy no longer.  Give folks like Frank Warner all you got.  Quit thinking of Ridge to Ridge, think ocean to ocean."  
Many groups like the Weavers, and single artists like Harry Bellefonte and Burl Ives, had released recordings of songs from the obscure communities of the mountains, but because of their visibility in the popular media many people credit the Trio with starting the great trend which was to become known as the Folk Music Revival.  I became a fan of the group.  I had their first four albums, and learned just about all the songs vocally, and when I could get my hands on a five-string banjo I would learn those parts too. 
I was able to borrow a banjo from a friend, actually the son of a friend of my mother's who was a year younger than I.  It was a clumsy instrument, a Kay, infamously a very cheap banjo made mostly of Bakelite.  One could tell that it was an inferior instrument because it had about half the number of brackets holding the head on.  Once I was able to tell the difference, I wouldn't have wanted to be seen with it. 
I continued to practice, and again, through a friend of my mom's (I hadn't yet come to realize how supportive she was of my music efforts) I met Bob Jordan.  Bob was also just beginning to play the five-string banjo.  He was a couple of years older and was just going into college at UCLA.  He would come over and show me a few things about the banjo and stay for dinner. 
Eventually I saw an ad for a five string banjo in the local paper.  I don't know just how I came up with the seventy-five dollars, but I bought it, and was pleased to find that it was every bit the best banjo I could want.  Actually it's more than that.  It's a 1921 Bacon Grand Concert.  It has beautiful mother of pearl inlay very tastefully distributed on the ebony fretboard, peghead and butt of the neck.  It has the very distinctive tubular resonator invented by the Bacon people and carried through on many high-end custom banjos today by Bart Reiter and others.   It's worth many times what I paid for it. 
I bought it from a man named Bill Smith who had a recording studio in Pico Rivera.  It had belonged to Walt Pittman, who took it all over the world as he worked on construction crews for oil companies.  Walt was primarily a bluegrass player, and had invented a system of cams similar to the Scruggs tuners that Earl Scruggs used to change notes during a song.  This effect can best be heard on "Earl's Breakdown."  Bill Keith has also developed his own version of the tuners and continues to offer them for sale.  I still have the Pittman tuners which I believe must have been his hand brazed prototypes.  They work just fine. 
Dave Guard was my hero.  I emulated his playing as completely as I could, although vocally I favored Bob Shane.  Dave was learning the banjo as time went on, and with each new album he and I grew into the instrument together.  As it turned out, Dave was working with Pete Seeger's book, "How to Play the Five String Banjo."  So many people have acknowledged that book over the years.  I have loved it, and it's still available from Sing Out Press. 
The humor on the "Live at the Hungry i" album was a revelation to my sheltered fifties sensibilities.  Memorized by just about everyone I knew, it was one of the things that opened those doors into a more worldly world.  It never occurred to me at the time that even the name of the San Francisco club, "The Hungry i" was an invitation to discover the Zen of art.   It was just one of the revelations that were coming to me as we slouched forward out of the fifties. 
Many people credit that recording with setting in motion their own stagecraft, their style of presentation, especially the humorous banter leading up to the songs.  Years later I had a chance to tell Dave Guard what an influence he had been, and how much I admired his sense of humor on the "Hungry i" album.  He replied very modestly that he was only "doing Lou Gottlieb," (the bass player and professorial spokesman for the Limelighters.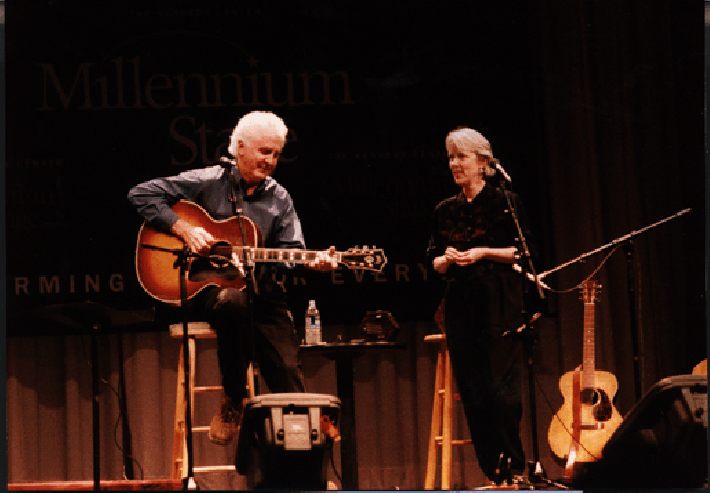 To view our live concert from the
Millennium Stage of the

Kennedy

Center
Visit the Kennedy Center archives.
If you don't already have RealPlayer
you can download it for free from Real.com

Please send any correspondence or requests for information to:
Compass Rose Music
P.O.Box 1501
Bennington, VT 05201
Direct your e-mail messages to:
Steve Gillette, gillette.steve@comcast.net
or to:
Cindy Mangsen, cindymangsen@comcast.net
Come back for more information, lots more Folk Music resources on the Internet,
our concert schedule, and of course, the jokes.
On the World Wide Web Since
October 5, 1995